The Corderie will be open all summer!
In one click, discover all our made-to-measure confections! Nets, ropes, straps, mats, ladders, tarpaulins, climbing ropes, swings... And even more if you wish!
Lashing strap with INOX ratchet tensioner, width: 25,00mm, length: 4M50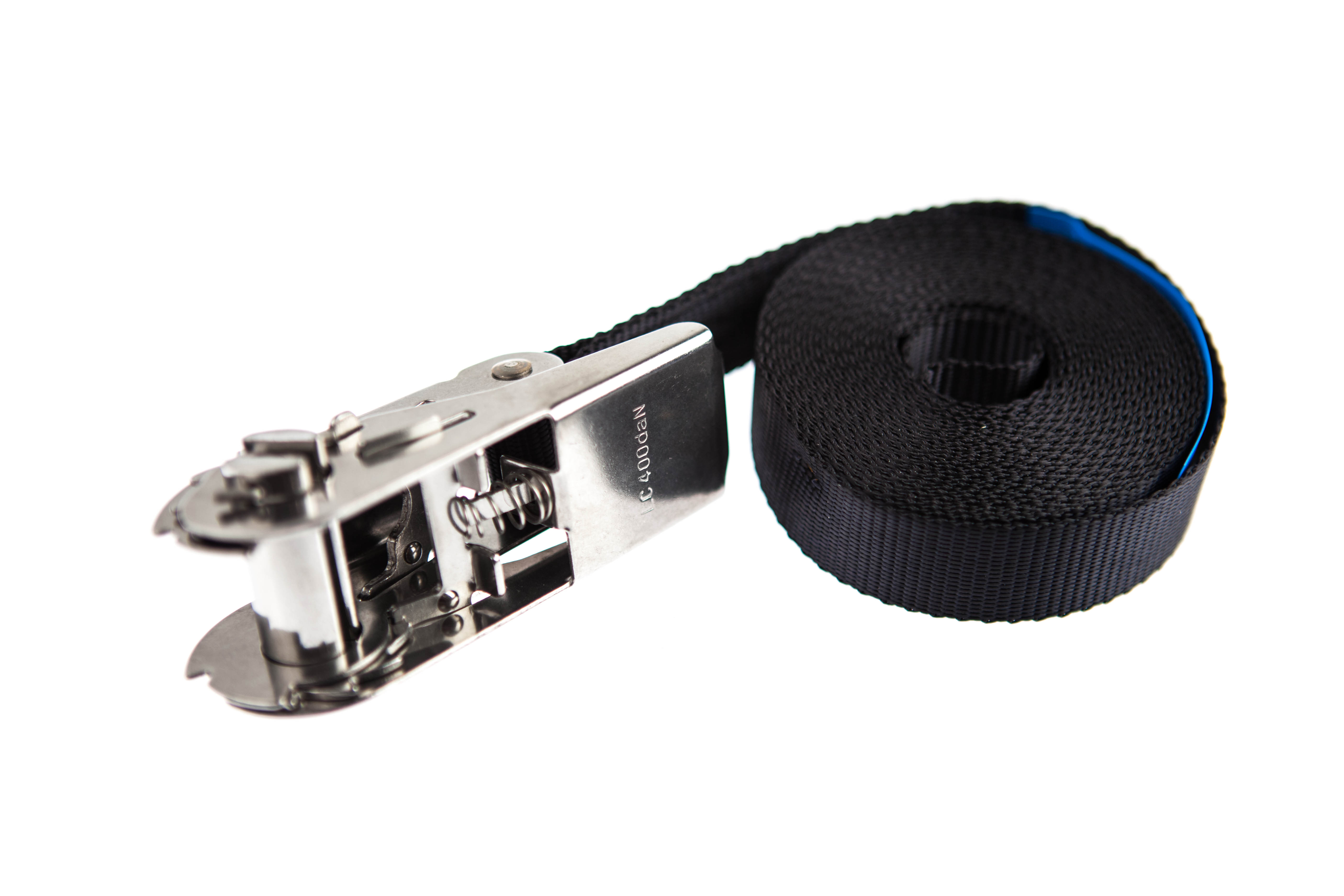 Datasheet
| | |
| --- | --- |
| Reference | W2297 |
| Length | 4.5 m |
| Width | 2.5 cm |
| Breaking load | 400.0 daN |
| Colour | Noir |
| Component | polyester (pes) |
| Weight | 0.415 kg / 1.0 x |
Lashing strap with INOX ratchet tensioner, width: 25,00mm, length: 4M50
Starting price 7,80
€

/ Part
This one part polyester tie down strap is perfect for clamping loads in trucks, on trailers, on roof bars. Thanks to its stainless steel ratchet tensioner, this tightening strap can stay outside. It is not recommended to use this product to lift loads. Service load (EN 12195-2): LC (daN) 400 daN ↔ LC (daN) 800 daN - Breaking load: 1200 daN. Do you know how to use a ratchet tensioner for strap (or racagnac) wisely? This system is used to maintain the tension of your strap around an object (or a person, during an artistic performance). If you want to stretch your strap with the strength of the tensioner, you're screwed. The strap will jam the system. This is guaranteed on invoice. La Corderie explains the instructions in two steps to avoid this inconvenience: 1. Nature has endowed you with biceps, put them to use. Pull the strap with your hands. 2. Once the strap is tightened, operate the ratchet two or three times to maintain the tension. That's it. What, already? It's so fast that it's outrageous.
Price / Part
Quantity
€ (excl.)
1 < 10
8.78
10 < ...
7.80